Royalty Free Chakra Music
Do you need music for a chakra meditation? If so then you'll find our royalty free chakra music is perfect for your needs. In fact, this music collection is perfect for any time you need relaxing background music that will sooth and inspire your listeners. This music also makes a wonderful accompaniment to any type of natural therapy or healing practice that focuses on energy clearing and balancing. Our royalty free chakra music is available as a complete collection or as individual tracks.
Did you know: This album (Seven Sacred Centers) is one of Christopher Lloyd Clarke's most popular creations and features one of his most famous tracks – "Divine Love". We hope you love this delightful music!
For in-depth information and license prices for any of our royalty free music, simply click on the blue links to Enlightened Audio below.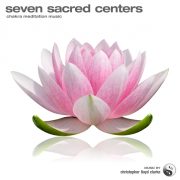 Seven Sacred Centers
An exclusive collection of chakra music of unsurpassed creative depth and production quality.
Track 1 - Earth's Embrace
Track 2 - The Joy of Creation
Track 3 - Shine
Track 4 - Divine Love
Track 5 - The Free Air
Track 6 - Deepest Mind
Track 7 - The Ascension